While most people were using their saturday to sleep in, us Comic Con fans got up extra early to sit in a virtual waiting room. Yes, today was the day when we could buy San Diego Comic Con (SDCC) passes. Of course, you needed an approved member ID a week in advance and you needed to access the waiting room before 9:00 AM PST. Then, you needed to keep refreshing, and waiting...and waiting...
If you were lucky, you got a 3 or 4 day pass. If you were kind of lucky, you got a preview night pass. However, like usual, most of us were left with nothing. But hey! Don't fret. You have every right to be disappointed There's no convention quite like SDCC, but if you're a true nerd, you'll love any convention. I will admit, we all prefer different cons, regardless - it's always a fun experience. There's still time to plan our summer, and we have to get AT LEAST one con in. Here are some conventions you can go to this summer if you didn't get SDCC passes, and hey, even if you did - here are some more awesome conventions to go to!
1. Geekycon (July 30 - August 2nd, 2015)
- Formerly known as Leakycon, Geekycon started off as a Harry Potter convention. I went in 2011 & 2012 - and have to say this: I'M IN LOVE WITH GEEKYCON. Thousands of people attend every year, however, it's not insanely crowded. The people are always friendly, the special guests are always walking around, and there's always something to do. Late night concerts, artist alley, fun panels, an entire day dedicated to literature, and unique special guests. Not to mention, the location changes yearly.
This year, it's held in Orlando, Florida at the Orange County Convention center.
I highly recommend Geekycon. They usually have an event at Universal called 'Open at the Close.' When the park closes, it opens for us.
2. Special Edition: NYC (June 6 & 7 2015) -
A lot of people love Comic Con solely for the comics. Yet over the years, it became about video games, pop culture, film, cosplay, etc. It became star studded and everyone wanted to go. Well, that's not the case anymore! A lot of us con-goers live on the East coast, so this is perfect for my
New Yorkers!
Celebrate your love for art, comic books, and illustration here - and you won't have to worry about any posers. I promise, guys.
3. Wizard World Comic Con (All Year Long)
- Yes. You heard me. All year long. If you click the link, you will see that there will be conventions in basically every city. There's bound to be one near you.
Nashville, Chicago, Las Vegas, Sacramento
- the list goes on and on. Wizard World has been known to not always have the most interesting guests and panels, but it's getting bigger and better every year. It makes it easy and affordable for people all over the US to get the chance to go to conventions.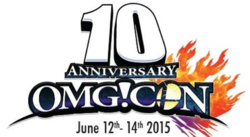 4. OMGcon (June 12 - 14, 2015) -
Held in
Owensboro, Kentucky,
OMGcon is for those who don't want to go too far East, West, North or South. Full of video game tournaments and cosplay contests, it's worth the $50 dollars for AN ENTIRE WEEKEND. Yes, it's an intimate setting. But if you're in the area, why not? The thought of a video game tournament on it's own excites me, and considering it's OMGcon's 10th anniversary, I have a feeling some exciting things are to come!
5. Dragon Con (September 4 - 7, 2015)
- Dragon Con takes place in
Atlanta, Georgia.
Live in the south? You're in luck. Dragon Con is the perfect way to end to your summer. It brings together old and new forms of geekery and has always had something unique about it. It doesn't exclude any fandoms, it's open to change without disregarding past generations. I've had friends that have gone in the past and they say it's a real con experience. People come from all over the world to geek out.
6. Nerd HQ (July 24 - 27, 2015)
- Nerd HQ has amazing panels and special guests, yet at the same time, you feel like your just hanging out with your friends. Nothing about it is stressful. Going to California and feeling left out because you didn't get SDCC passes? Well, Nerd HQ is
held in San Diego
, so it's perfect for us loners. They have a gaming area, a dance party, awesome vendors, and exclusive screenings. It's a real convention experience that is worth the trip.